What to Do After a Flood in Phoenix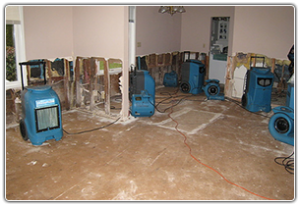 Flooding in Phoenix is not all that uncommon. Our climate makes us more prone to monsoonal rains and flash flooding events that can quickly turn a dry creek bed into a raging river sending water, mud and debris into our homes. On a smaller scale, broken pipes or appliances can cause flooding inside our homes, filling up basements and causing water damage throughout our homes.
Wherever the water has come from, a flood is a flood, and homeowners should take these situations seriously. Floodwaters can introduce new contaminants into your home, can contribute to mold growth, and can cause significant damage to your building materials if not dealt with quickly. If your home is damaged by a flood, call a flood damage restoration company as soon as possible.
Flood Cleanup in Phoenix
The process for flood cleanup varies depending on the source of the water and the level of contamination present. Generally, floodwaters that enter the home from outside are considered category 3 waters and will require additional cleaning and sanitation to remove potentially harmful bacteria, parasites and viruses that may have been present in the flood waters. Floodwaters entering the home from outside also presents the possibility that pests like snakes may have entered the home as well, and additional precautions are necessary.
Water damage that originates inside the home can be category 1, category 2 or category 3 water, depending on the source, how long the water has been present in the home, and what contaminants are present. The longer water remains, the more likely it will become a category 2 or category 3 flood cleanup. For this reason, it is important to call a flood damage restoration professional as soon as possible after the damage is discovered to begin removing the water and drying the area.
Precautions After a Flood
If your home has been flooded, there are several things you should do to protect yourself and your family. There is a great risk of electrical shock in flooded buildings, so never enter a flooded area until electricity is turned off. Never use a regular vacuum cleaner to vacuum wet or damp areas.
Avoid contact with floodwaters, especially those that may have harmful contaminants that can cause illness or disease. Avoid traveling from the flooded area to other areas of your home, as you can spread contamination. Keep contaminated personal items separate from other items in your home.
Hiring a Flood Damage Restoration Professional
Your best option when dealing with flooding in Phoenix is to hire a flood damage restoration professional who can manage cleanup and restoration from start to finish. By working with a professional, you will be reducing your total losses, reducing your risk of greater contamination, and ensuring your health and the health of your family.
Floodwaters commonly permeate drywall and subfloors, and only a flood damage restoration professional will have the tools necessary to detect moisture in these areas and to thoroughly dry the area to ward off mold growth. Whenever an area has been inundated with water, it is always a good idea to have a professional check for hidden moisture and to dry those areas as needed.
Overston Restoration provides emergency flood damage restoration services in Phoenix and the surrounding areas. If your home has been damaged by a flood or has suffered water damage, call us today.