Storm Damage Repair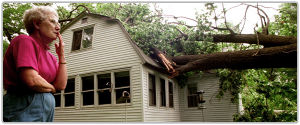 When Mother Nature and her storms hit the valley, high winds, hail, rain, & debris can lead a path of destruction straight to your home or office.  Her fury can result in minor repairs such as shingles and siding loss, all the way to trees and "saucers of death" (trampolines) being hurled into your home causing major structural damage and leaving it in a state of emergency.
Our wind damage repair experts have lots of experience with good ol' Mother Nature and will assess the damage quickly and get your home restored completely.  Returning your home and life back to its pre storm damage beauty.
As a fully equipped general licensed contractor, Overson Restoration can rebuild your home or office from the ground up (if necessary). Our experience includes over thirty years in the construction industry.
We're licensed, bonded and insured and we are experts in restoring your home and peace of mind.
How we help
We can assist you with getting trees and other debris off of your structures and if you have areas that have been breached by the storms, we'll quickly get those areas tarped off so we can reduce the chance for more damage.
We can assist you with the restoration of your entire building, glass replacement, roof repair, air conditioner repair or replacement, drying and dehumidification, emergency power, electronics restoration, contents restoration and the list goes on.
Our Additional Services:
Full Reconstruction
Interior/Exterior Structural Cleaning
AC and/or AC Coil
Roofing
Siding