Hiring a Fire and Water Restoration Company in Phoenix, AZ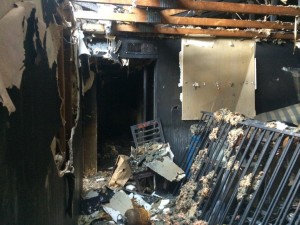 Cleanup and restoration for fire and water damage requires hiring companies that specialize in remediation and restoration services. Cleaning and restorations companies are staffed with professional technicians and contractors that have extensive experience and heavy duty equipment to help remove mold, mildew, bacteria, smoke and odors that are prevalent in these environments. These companies understand the permits and inspections that are required in your area and will work in accordance to all building regulations and codes.
Fire and water restoration companies are an instrumental resource following a fire or flood. Hiring a fire or water restoration company within the first 24 hours after the fire department clears your home is crucial in preventing secondary water damage like mold and mildew from developing in your home. A reputable company can save you time and money. There are three main ways to locate fire and water restoration companies: as searching in your local business directory, doing an online search or, getting a referral from your insurance provider.
Utilizing Your Local Business Directory Listings
You may be able to find a restoration company in your local business directory. Following a referral from your insurance company, this may be the most efficient way of finding one. Do make sure that the company you hire has a good reputation. We also recommend consulting with friends, family, or neighbors about your potential restoration company.
Locating a Fire and Water Restoration Company Online
Finding fire and water restoration companies online is an option, but an option that you is most effective before disaster strikes and not after. After a fire or flood, you may not be able to check online, especially if the damage disturbs power to your home or damages your computer. One addition factor to consider when searching for a fire and water restoration company online is that response time is paramount.  If you do find a company on the Internet, make sure they can respond in time to prevent secondary water damage.
Insurance Provider Referrals
Your insurance provider can recommend a company that they have a good relationship with.  They will have knowledge of those companies that operate using sound business practices. Since the companies have a history of working together, it is easier for all parties involved. Policy and procedure becomes a formality. There are two important factors in hiring a restoration company. The first is the quality of work they can offer you. The second most important factor is how quickly they can begin working on your home.
Overson Restoration is a general contractor that has been offering services to Phoenix area for over 30 years. We have expert service professionals that can help you when disaster strikes.  We can help you restore your property to more than its former value and offer you the best terms of longevity, appearance, durability, as well as price.
At Overson Restoration we are dedicated to our costumers, not only do we exceed expectations we build lasting relationship. Contact us for your restoration needs today!